Enjoy Our Hampton Beach hotel with a heated outdoor swimming pool – an easy walk to the beach.

Enjoy loungi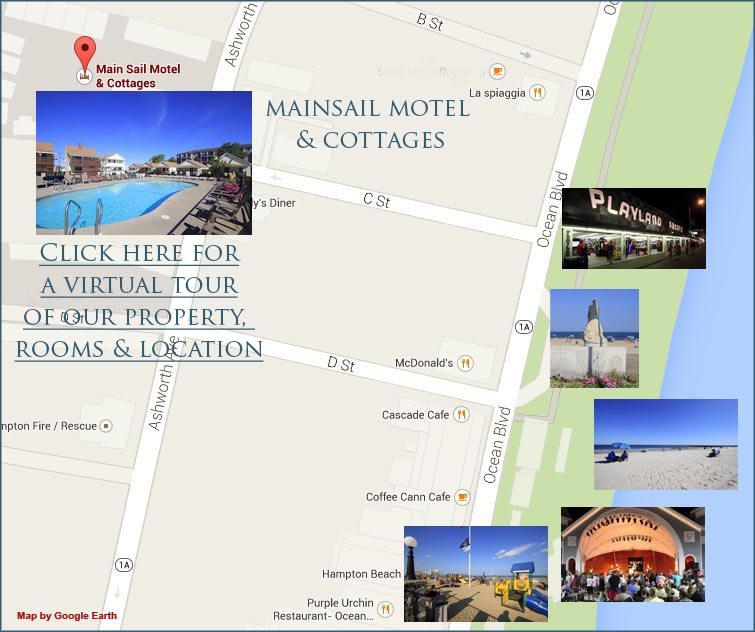 ng at our large, centrally located swimming pool or on your deck, and take an easy walk to all the excitement of the beach and surrounding Hampton Beach attractions.
We are just a few steps away from the Hampton Beach Casino, concerts at the Sea Shell

Stage, the children's playground, arcades, restaurants and everything you come to Hampton Beach to enjoy. The Hampton Beach fireworks occur every Wednesday night in season, and on holidays and during special events.
Our Hampton Beach Motel units include: Refrigerator, microwave and coffee maker, two beds (either queens or doubles), full baths with tub & shower, flat screen TV, dining table & chairs,  air conditioning, assigned 1 vehicle parking, daily maid service, outside deck with seating, outdoor heated pool. Click images below for larger views.

Enjoy our Hampton Beach Hotel with heated swimming pool
We are located in the heart of Hampton Beach New Hampshire – just one block from all Hampton Beach attractions, restaurants, shops, fireworks, the Seashell Stage, Hampton Beach Casino and more! Enjoy our large, centrally located heated swimming pool, plus a variety of quality, modern guest rooms and cottages. Hampton Beach has been named one of the Top 6 Beaches in the country based on a new article by the Weather Channel and Weather.com.
This is the first year that a New Hampshire Beach has made the Weather.com list of favorite beaches, a list that was compiled by readers of Weather.com.
Among the things that people liked:  the small but lively beach scene, which includes more than 80 free concerts, fireworks shows and the sand castle contest, which draws master sand sculptors from all over the world to the beach each summer.  Hampton Beach State Park was also one of four beaches nationwide honored for having clean water quality in 2011.  This designation was actually given to Hampton Beach four years in a row.